My last few days in  Bali were near the beach. Unless you get a special Visa, they kick you out after 30 days–or, even better, you are fined at the airport, so like Doug, "I'm outta heere…"  (please click on this–it would make me very happy and you'd gain insight into my bizzaro sense 'o humor).
I ended my time in Bali at the beach because it seemed like the right thing to do. I mean…Bali. The name conjures up images of, well, crystal-clear intensely blue beaches and surfing and babes in bikinis…although not so for me. Turns out it was the start of the rainy season, where the drops fooled me  by impersonating hail–and rain turns the blue waters murky. Helps with the heat but does little for beach time. But honestly, in this particular case, I'd have rather been in a cafe drinking amazing coffee at Revolver Espresso than frying my Scandinavian skin on a beach anyway…in-between storms soaking up the sights and sounds of a scooter ride than the roar of waves and chorus of–not "taxiiii" this time but–"Umbrellaaaa?"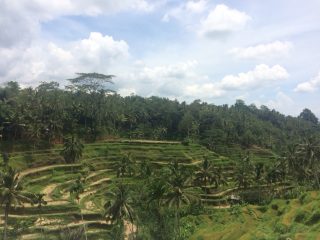 On my rented scooter, the focused calm of rubber to road gave my mind a chance to wander. The thoughts had me pulling over to the side of the road a few times–to write down thoughts which do not remain unless caught with my thumbs and inserted into my phone's notepad. The context came from the changing landscape.
Life is split up into 4ths. Natural ugly/natural beautiful; Man made ugly/man made beautiful.
This is no more apparent than on a ride from the country-ish part of a Bali road to a world-class resort. A travel site I follow, Fathom, posted an article on their 10 recommendations for "Top Hotel Views"–2 in Bali. The Alila Villas Soori, the newer recommendation, was only an hour-ish (as the capable crow drives…) away from my hotel–the Alea Hotel (still nice–replete with the hot water I'd been missing, but at $17–not quiite the same). This is where I planned on heading…provided I could follow the GPS lady's directions offline–a thing some people don't know about. *Tip: as long as you route your trip while online, you can follow the blue dot to your destination offline! Just don't close out the app or it's game over.
Blue dot notwithstanding, I managed to get turned around a few times as I weaved and bobbed my way through the Balinese countryside to a place, I was later told, which is intentionally difficult to find.  My tour guide said he got lost on his way to his interview–FOR THE RECORD.
Seems they try to keep the riff-raff out. They failed, because as I quite literally went the final few meters down a brick road, I was greeted by a security guard who seemed to smile so much his face had frozen that way. I told him I'd read about the stunning views of the place and wanted to see it, adding the white-ish lie, "Maybe I can stay here next time…". Not that I wouldn't, but even if I were a zillionaire, Bali is not the place I'd pour my zillions into, considering moderate luxury can be bought instead for the price of a Motel 6. He seemed perplexed but excited to show the place to me, and as he called up his colleague on his official-looking walkie-talkie, I began to feel like a minor celebrity minus the cash and the problems celebrity brings.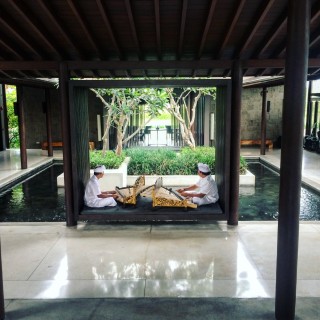 Just Ask
I was picked up by a golf cart and driven the short distance to the villa's entrance, where I swear the two musicians started playing seconds before we arrived. Then another smiling employee met me with a chilled bottle of water and proceeded to show me two of the villas (they were only at 30 percent occupancy…so I have a feeling the dude was thrilled to have something to do, but still…). JUST ASK!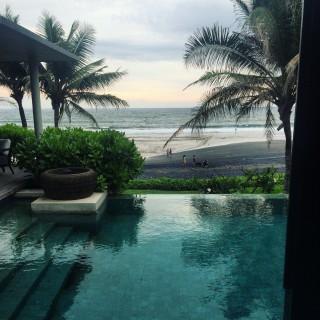 But still…unrelated to this manmade beauty, before this experience of the day's "final destination", Those words flashed through my mind. Clearly and insistently enough that I kept scooting for some time before I stopped to inset them into my phone's notepad. These words stuck:
True Freedom is Loving it All but Needing Nothing.
Want vs. Need: the great debate for Christmas and its supporting character holidays. I love diamonds–how they sparkle and reflect light, but I do not need one. Same is true for VW vans and the newest NB sneakers…same is true between me and Bali itself.
For now, I can say this…
I will miss the coffee most of all. Especially the "flat white" which, it turns out, is different from the cappuccino or latte. And, when I've forgotten what I disliked about Bali–those things will be swallowed up by memories: the sweet chaos of constant construction, motorbikes, offerings being offered at all times of the day, roosters, scooters, sidewalk holes the size of humans, burning garbage, the smell of burning garbage, a burning smell, incense–burning, statues–everywhere, smiles for no reason, smiles for secret reasons, the absence of frowning, the absence of despair in the midst of what could be/should be/would be to you or me (unless you are Balinese).
It's a phrase from childhood, really, but it took Bali to remind me: Just Ask…if they say "no", well…you didn't need it anyway, did you?