Featured Post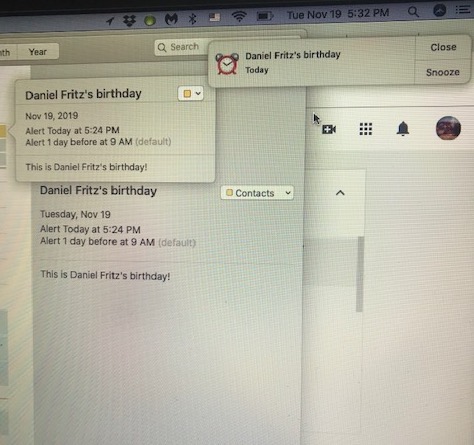 Even if I wouldn't have remembered (impossible), my computer wouldn't have let me forget.
At the moment, the most incredible thing about that statement is how difficult the grammar is…even if–wouldn't have; would not have. Not an easy sentence for non-native speakers. And at the moment, this is relevant because I'm doing something different than you or I would have imagined, Dan. I'm in a tiny country across several ponds, teaching (or its approximation) English and learning a language spoken by only 2 million people (I was always the impractical one). I am thousands of miles away from where we first met and last parted, but still as close to you as I would be anywhere in the world.
Daniel Fritz's birthday/Today, chimes my computer screen with the tritone sound and the little red alarm clock next to the text—there, it just happened again. Can you hear it?
There are two options: Close/Snooze. One on top of the other like a true or false quiz.
I hit "Snooze" and laugh, silently; it's also the nickname my dad gave me: Snoozer. Makes me seem like a person who sleeps a lot, but I've always struggled to succeed in the Land of Nod.
Daniel Fritz's birthday is Today. It's true, but it's also not.
Your birthdays may continue in theory, but your life on Earth stopped, in fact.
On your birthday, one of our Wall Street neighbors (oh, how I loved every inch of our 365 sq. feet) brought cupcakes from that famous shop, Magnolia (not that one—the other) and drove with them uptown in a taxi like they were miniature hearts-on-ice. The nurses and I ate them all since you couldn't eat much of anything (pro tip: don't get food for cancer patients note: you are pre-forgiven if you do).
November 19th, 2008. Not so long after the financial crisis and we lived in the Lion's Den. If only you could have traded in your 401K for more days. While the stock market men braced for their "End Times", I would soon encounter my own.
Sometimes you're lucky to turn 30.
There were blue balloons and streamers I bought hastily as I did my run/walk from the 6 train at 68th and Lex. (I was always in a hurry to get to you). I wore the gray puffy sleeping bag coat the weather didn't call for. I tried to make the day a birthday; a normal celebration—more for me than you. The present you needed was something no one could gift.
I got the good view this time, Babs.
You turned 30 in a hospital with a view of the Brooklyn Bridge.
You slept. (You did not care that it was your birthday).
I watched the lights twinkle from the other side of a city I never planned to leave.
And so I hit snooze yesterday when yesterday was today, and I'll hit snooze today when today is all I have.
Sometimes you're lucky to turn 30, you said, with only me to hear it. A Sage-like wisdom always at the ready—changing my life again in an instant; you were born and died this way.
And I've tried to never forget it: the luck of minutes and hours and weeks and years; the fortune to grow old and acquire wrinkles and spots and incomprehensible losses. But you weren't lucky enough to turn 31, and it is something I'll never truly accept.
So, I let my Mac think what it "thinks":
Today is Daniel Fritz's 41st birthday"
I'll hit snooze as long as it takes
Until the clock knows better